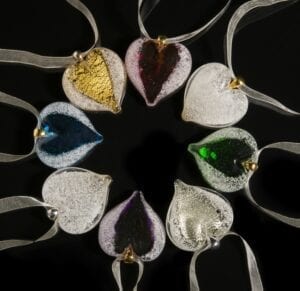 Angel Wings Jewelry Collection
Our Angel Wings Pendants are available in 24kt yellow gold and 18kt white gold. Our cremation jewelry pendants can also be created using ashes only. In addition, Artful Ashes pendants are available in all 15 colors plus black, orange and teal. Please also choose 24kt Gold plated or 18kt White Gold plated bail attachments.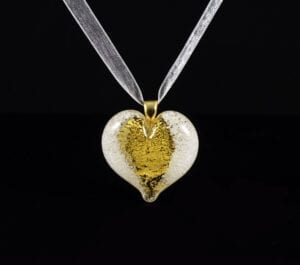 Artful Ashes creates handmade, glass cremation jewelry. These beautiful jewelry pieces comfort your grieving, allowing you to keep the memories of your loved one.
We would be very honored to create jewelry that memorializes someone dear to you.
Each order is treated with the utmost care and respect, following strict tracking and production methods.
Each pendant is created by an artist in our Seattle, WA studio.
We invite you to explore our website and see how carefully we handle your loved one's ashes.
How Artful Ashes Pieces are Made
How to Order Our Jewelry